I have recently met this really nice blogger, her blog is called Tales of a Ranting Ginger.
She has been great help to me in the last few days and she told me about a blog hop she hosts and I knew that I had to help promote it and her.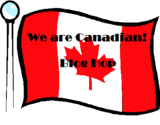 I hope that all you Canadian Bloggers on my blog go and join her and this blog hop.